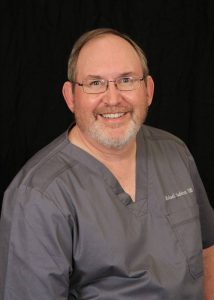 Dr. Michael Gadeken, DDS
Dr. Gadeken grew up in Greeley, Colorado. He did his undergraduate work at Colorado State University and obtained his Doctor of Dental Surgery (DDS) degree in 1992 from the University of Colorado Health Sciences Center in Denver. His gentle techniques, light touch and keen eye for detail have earned him an excellent reputation on the western slope; he has lived and practiced in the Grand Junction area since 1993. Dr. Gadeken has been a member of the American Dental Association® during his entire career. He continually updates his knowledge base and has attended post-graduate courses in dental implants and cosmetic dentistry. He restores smiles to their most beautiful! He lives in Grand Junction with his wife of over 25 years.
Dr. Gadeken brings years of experience to your dental care. This long-term perspective allows him to treat you efficiently and compassionately. He will explain any treatment you will be having and will encourage you to ask questions.
Meet Our Team
Our team at Crossroads Dental is warm, open and works with our patients to ease their dental fears. We are dedicated to both your health and your comfort while in our office. Call us at 970-245-4483 today to schedule an appointment with our dentist, Dr. Michael Gadeken, and learn more about dental care in Grand Junction, Colorado!
Check back soon to meet our team!